Periocampus is not
solely a course in Periodontology
Periocampus is not just a course in Periodontology. Periocampus is a full-immersion campus in Periodontology. There's undoubtedly an academic ring to it, and for a reason, because Periocampus nurtures the immersive atmosphere one would usually experience at a university campus. At Periocampus, learning does not begin and end with each lecture.
The programme of Periocampus is designed in a way that for 4 days, from the morning till the evening, every element is given an educational purpose. Even the meal-time and breaks are created so you can learn in an untraditional atmosphere and be exposed to information that will give you a more comprehensive outlook on Periodontology, the patient and periodontal treatment. The main goal of Periocampus is to empower clinicians to apply what they've taken from Periocampus the moment they get back to their patients in their dental practice. Due to its intense, immersive programme, Periocampus connects clinicians that share the same interest and passion for Periodontology – it builds a community.
Over 700 professionals have chosen us. And you?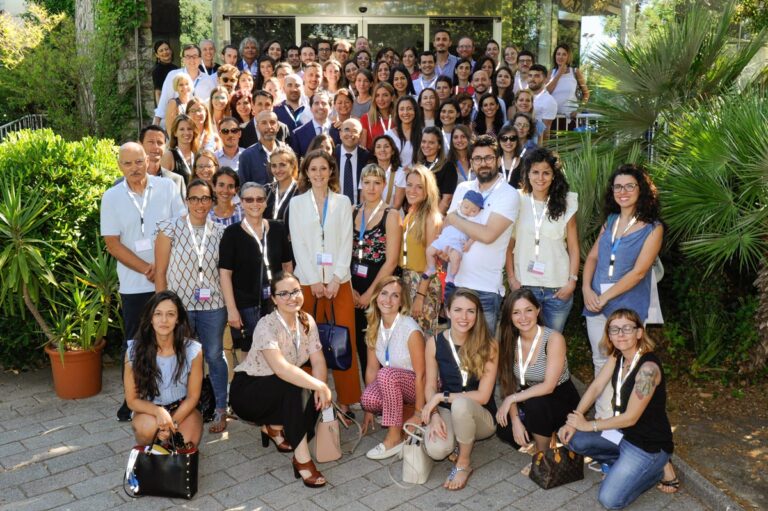 Periocampus Alumni is an influential network connecting all former Periocampus participants
Periocampus Alumni is an incentive for continuing professional development and education in Periodontology.
How to become Periocampus Alumni?
Clinicians who participated in one of the Periocampus sessions and want to pursue their professional interest and further advancement in Periodontology in the unique Periocampus' educational environment can join the Alumni network
Yearly Periocampus Alumni Event
What better way to enjoy Periocampus' atmosphere again than to get together and immerse in Periodontology?
Lectures are given by internationally renowned speakers – the scientific topic of the event and the visiting speakers change every year in order to provide continuing, up-to-date, evidence-based education.
Hundreds of clinicians, dentists, dental hygienists and dental therapists in one place gives you the opportunity to meet new colleagues and connect with them.
You can exchange clinical experience, share and discuss cases and even find unexpected career opportunities.
You will get access to the closed community groups which are a nurturing environment for the exchange of clinical cases and discussions.
Alumni members also get access to scheduled webinars on different Periodontology-related topics.