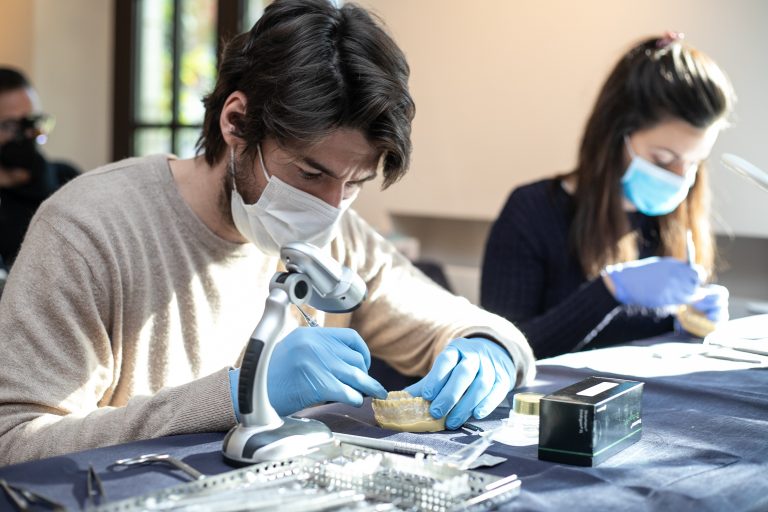 Periocampus Advanced is the refinement of your clinical role in the Periodontology world, through two distinct journeys depending if you are a dental hygienists or a dentists.
LANGUAGE:
Italian
English (simultaneous translation)
Dentists will follow their dedicated journey, where the main focus will be on periodontal surgical techniques and their practical applications, working on models and simulators.
While dental hygienists, will understand and refine management skills regarding patient susceptibility and motivation, together to instrumentation techniques.
With Periocampus Advanced you will take a step forward in the study of periodontal diseases. Thanks to tutoring and supervision you will be able to treat real patients suffering from periodontitis, deepening the instrumentation techniques and experimenting the skills acquired during the Foundation Course.
The course is suitable for both dentists and dental hygienists and therapists. Periocampus is created with the aim of giving you the completest piture of periodontoly, therefore we suggest (mainly to dental hygienists) to complete the entire journey starting by the Periocampus Foundation, passing through the Periocampus Advanced and ending up in the Periocampus Patients. It is also intended for experienced clinicians, which will build upon their knowledge and further practice their dexterity.
 Probe and evaluate patient's oral health

 Perform subgingival instrumentation 

Learn lifestyle change and oral hygiene management methods  
Understanding the disease clinically
Risk management and future planing
In addition, DENTIST will:
Understanding when to do surgery or not 
Choose the type of surgery and the type of flap
How to perform the necessary surgery for conventional regenerative therapy
Work on sutures
Join the course... partecipate to the community!